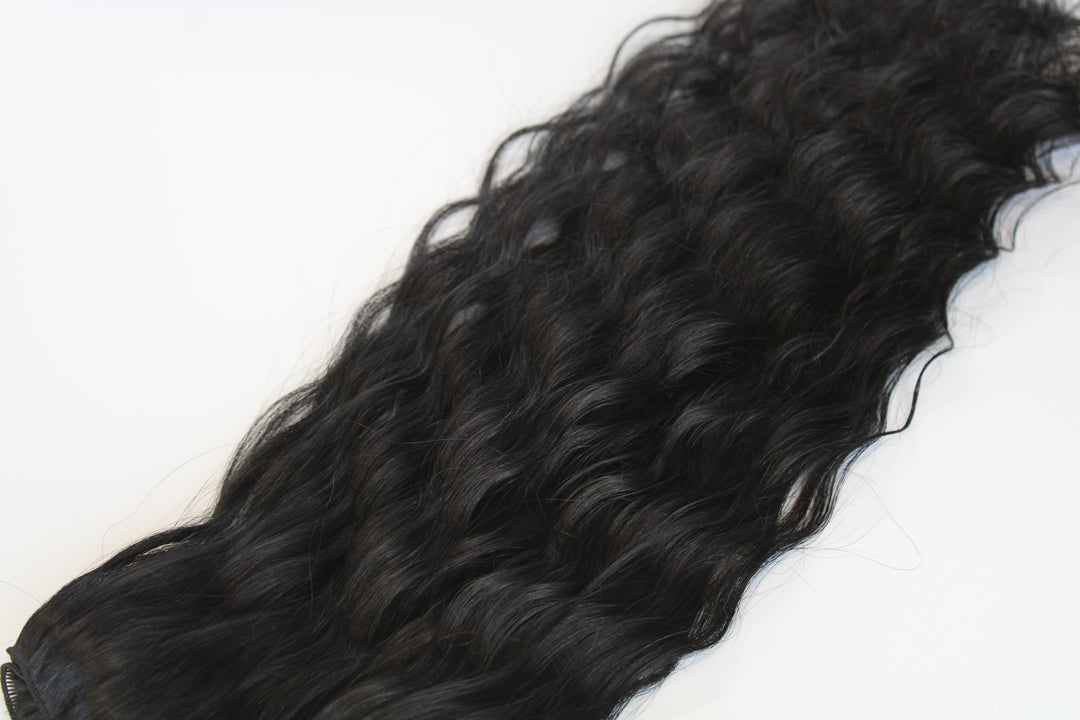 Hand-Tied Deep Wave - 1 N (Neutral Black)
DESCRIPTION
4 Wefts Per Pack

Hand-Tied Deep Wave - 1 N (Neutral Black)
ABOUT ISLA® HAIR
Cuticle is intact.

Hand-tied refers to the size of the weft and how it is sewn onto the weft.

ISLA® hair has less silicon creating a more natural and fuller appearance.

 More grams per weft creating a fuller look, but less bulk per row.

 Color is pre-rooted and pre-toned creating a softer blend.
Remy quality:

Remy hair is the most sought-after hair in the professional market. "Remy" means the hair is all facing the same direction. This prevents matting and tangling, as each strand remains flowing in its natural direction.


100% human hair:

Many hair extension companies claim to include only human hair but have added synthetic—or in some cases, non-human—strands. This proves disastrous once installed. True Remy 100% human hair will last several months when properly cared for.

Cuticle intact, facing the same direction Each ISLA® hair strand still contains its original cuticle. The cuticle is the outermost part of the hair shaft and has overlapping scale-like layers that are essential to strengthening and protecting the hair. We respect the cuticle! The requirement and commitment to keeping the cuticle intact is an essential distinction we have in ensuring our hair extensions look healthier and last much longer. Many other brands claim to have Remy hair but the cuticles have been stripped and glazed over, leaving the illusion of soft hair that will only wear down shortly after it is installed.

Every strand, weft, and tip is hand-crafted by experts. Our partnering manufacturer hires hair experts to hand select premium bundles of hair, leading them through a careful process of sorting, cleaning, coloring, and conditioning that takes weeks to completion.

3 week long coloring process Our experts do not rush the coloring process with harsh chemicals and speedy bleaching agents. Instead, our hair enters a slow and gentle process that takes up to 45 days to completion.

ISLA® hair is double drawn which means it is the same length, so you get thick, full hair from roots to ends. Double drawn hair blends beautifully with all hair lengths, even short hair.  Because it's so thick from the top to the ends, even women with chin length bobs can wear double drawn extensions and have it look like their own hair.

The hair is ethically sourced from China & India